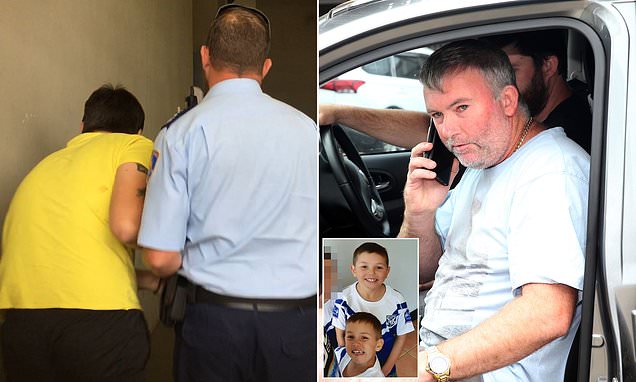 Two Children Dead and Driver Charged with Dangerous Driving Occasioning Death
Another shocking example of dangerous driving occasioning death has left a father without his two children.
Unlicensed driver Jacob Steven Donn is alleged to have lost control of his girlfriend's car and careened into Sheldon and Shane Shorey, killing them both instantly.
The 25-year-old was refused bail by Police at Dubbo Police Station and remains in custody.
Joseph Shorey, the father of the boys has spoken out about his heartbreak and urged drivers to be more careful on the road.
It follows a string of incidents in recent months where other drivers were charged with dangerous driving causing death. You can read about some of those cases here.
What happened?
Jacob Donn was allegedly doing burnouts in his girlfriend's red Holden sedan when he lost control of the vehicle.
The Police facts set out that the car mounted the gutter on Warne Street in the regional town of Wellington.
The Shorey brothers we killed instantly.
Donn allegedly fled the scene of the crash before being caught by police on nearby Elizabeth Street about 8.30pm.
Mr Donn appeared at Broken Hill Local Court via an audio-visual link from the cells at Dubbo Police Station.
Police have laid 14 charges against him including dangerous driving occasioning death and driving while unlicenced.
The 25-year-old did not make any bail application. The case is next listed on Tuesday, 12th January 2021 at Dubbo Local Court.
6-year-old Sheldon and 7-year-old Shane Shorey are survived by their father, Joseph.
Emotional Father Speaks Out
Speaking to the media, Mr Shorey reminisced about his "beautiful boys" and told drivers to take more care on the roads.
"That is not cool, all you young fellas out there doing that, it's not cool, because there are consequences if you do something stupid and wrong…Don't drive around stupid, drive around smart. You want to do donuts go and join a race club and do them there. Don't do them on the streets."
The father lives in Queensland. When he was told of the crash he drove through the night all the way to regional Sydney to meet detectives from the Crash Investigation Unit.
"Sheldon's only six, he'll be seven next month on the 12th. Shane was only seven, he was turning eight on Friday… two more days. I only saw them the day before and they gave me big hugs and cuddles and said, 'Dad, we love you, we'll see you on the 17th'," Mr Shorey said.
'Now I've lost my two youngest boys."
Driver's Great-Grandmother Speaks to Media
On the other hand, Mr Donn's great-grandmother also spoke to the media about meeting with Mr Donn shortly before the crash.
91-year-old Dawn Donn raised Mr Donn in Wellington after his mother was unable to care for him.
An hour before the accident, Jacob Donn visited his great-grandmother and great-aunt at their house.
He drove his girlfriend's car there – despite never holding a licence.
The elderly Mrs Donn said that she urged him not to drive as he left her house at approximately 4pm.
In fact, while he was in police custody at Dubbo Police Station he called Mrs Donn multiple times. She said he told her he wished it was him that was dead – and not the two innocent young boys.
"I'm devastated, I'm so sorry for those boys and Jacob is too. He loves kids…I've spoken to him on the phone, he's rung me twice. He's upset, he's crying all the time," Mrs Donn told media outlets.
"He was here yesterday about 3pm to 4.30pm… it was like normal, and when he came here yesterday we told him get out of the car, you should not be driving, but he didn't listen. He's so sad. He is a kind loving boy, he's only got us. I might not ever get to see him in this home ever again if he goes to jail."
Mrs Donn spoke highly of her great-grandson, who was named the school captain at Wellington Primary School.
He dropped out of high school in Year 10 and struggled to find work before moving out of his great-grandparents' home. At the time of with his arrest he was residing with his girlfriend on Warne Street.
"As a boy he was wonderful, everybody in the town liked him, loved him even, he was always well mannered. I was nearly 70 (when I took him in) but it didn't matter he made us young again, we had a wonderful life with him, he was the loveliest kid," Mrs Donn said.
"Even the police said last night just how well mannered he was, they all knew him too. When I found out I was shocked, I was just devastated."
"The police came around and spoke to us, they were frightened of what may happen to him, with all these people online threatening to kill him. They were frightened of what would happen to me too, cars were driving past all the night and yelling out: 'We'll kill you, you f**king dogs'."
Police Describe Tragedy
Local NSW Police Acting Superintendent Natalie Antaw described the incident as a "tragedy" for the community.
"Obviously it's tragic circumstances for the entire community and our thoughts are completely with the family and friends of the little ones involved and also the rest of the community of Wellington," Antaw said.
"Obviously a scene like that is horrific for anybody. It's a tragedy for the families involved and we'll be making sure we take care of our own staff and others who have witnessed this tragic incident. It's one of those jobs where you sometimes wish your arms were a little bit longer so you can wrap them around all your staff."
The regional town of Wellington has only 5,000 people. Residents are said to be lending their support to Mr Shorey.
Mr Shorey lost his job late last year. He has set up a GoFundMe page to help pay for the funeral expenses of his sons. The page can be viewed here.
The definition of dangerous driving occasioning death under Section 52A of the Crimes Act 1900 (NSW) is a person driving dangerously who is involved in an impact, and that impact causes the death of another.
You can fight a Dangerous Driving Occasioning Death chargein two ways. Firstly, the prosecution must prove beyond reasonable doubt:
You drove a vehicle (this means that you were "in control of the steering, movement or propulsion of a vehicle");
That vehicle was involved in an impact;
The impact caused death to another person;
At the time of the impact you were:

Under the influence of alcohol or drugs, or
driving the vehicle at a speed or in a manner that created a danger to other users of the road.
In the present case, Jacob Donn's manner of driving (ie. doing burnouts) would likely be enough to prove that his driving was dangerous.
The maximum penalty for Dangerous Driving occasioning Death is 10 years imprisonment.
The maximum penalty for Aggravated Dangerous Driving Occasioning Death is 14 years imprisonment.
Taking a look at sentencing statistics for dangerous driving occasioning death, it is clear that jail is a real possibility. To illustrate this, 96% of offenders were sentenced to some form of imprisonment. 62% of offenders were sentenced to full-time jail. The remaining 4% of offenders received criminal convictions.
This is due to the guideline judgement for dangerous driving occasioning grievous bodily harm or death (R v Whyte [2002] NSWCCA).
This is why it is important to obtain advice from specialist dangerous driving occasioning death lawyers who have successfully defended hundreds of these charges. Call Astor Legal on (02) 7804 2823. Or, you can email info@astorlegal.com.au.