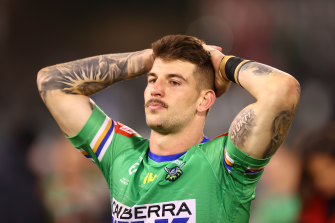 NRL Player Curtis Scott Charged with Assault and Choking
NRL player Curtis Scott has been charged with assault and choking after his former girlfriend made numerous domestic violence allegations.
It has also been revealed that the NRL Integrity Unit were aware of the allegations 2 years prior to him being arrested.
The 24-year-old is expected to defend the charges.
Curtis Scott was charged with common assault, assault occasioning actual bodily harm, stalk or intimidate and intentionally choking a person with recklessness.
He was formally arrested while playing a game of golf with his current girlfriend at Barden Ridge before being taken to Sutherland Police Station.
He faces eight offences in total against his former girlfriend Tay-Leigha Clark. The allegations date back to 2018. At the time Mr Scott had been playing for the Melbourne Storm.
He was granted conditional bail and will appear at Sutherland Local Court. The matter will likely be set for Hearing where Mr Scott can be represented by Sutherland Criminal Lawyers.
Police have also applied for an Apprehended Violence Order (AVO) on behalf of Ms Clark. It is understood that he will defend both the charges and the AVO.
NRL Aware of Curtis Scott Allegations
Both the NRL and NSW Police have been aware of the domestic violence allegations for several years but Ms Clark had not acted on them.
It is understood that Ms Clark told the NRL Integrity Unit about the matters Curtis Scott has now been charged with over two years ago.
The Integrity Unit took no action against Scott at the time. This was despite other players being stood down or suspended for lesser allegations. There has not been any public comment as to the reason for the lack of action.
"The NRL and the Integrity Unit let the alleged victim down very badly. They needed to be better and give the alleged victim more support. It was simply not good enough," a senior police source involved in the case said.
It should be made clear that Mr Scott has not been found guilty of any offence at this stage. There also does not appear to be any consideration by Police as to whether the allegations may be false AVO claims.
Curtis Scott NRL Career
Curtis Scott was given permission by the NRL to trial for a contract with the Eels last week but his career will be on hold until the charges are dealt with. Due to delays in the Local Court, it is unlikely that a Hearing date will be until late 2022.
The latest incident comes amid talk of a new deal with the Parramatta Eels but it's understood the club told Scott not to turn up to the first day of pre-season training.
He is currently without a contract for the 2022 season.
Throughout his NRL career, the 24-year-old has been no stranger to headlines. He is also defending charges over a nightclub brawl in Canberra last year.
In addition, Curtis Scott is in the process of suing police for wrongful arrest over an encounter in Sydney in 2020. The charges in relation to that incident were dismissed.
Assault Lawyers Sydney
An assault is said to have occurred when someone intentionally or recklessly causes another person to immediately apprehend unlawful violence. This may or may not involve actually touching the other person and the type of charge may depend upon the seriousness of injuries or the occupation of the person assaulted.
The definition of assault is broad enough that it even when there is no mark, injury and even no physical contact, a person can be found guilty of assault. It can also include acts such as spitting or throwing an object in the vicinity of another person.
Section 61 of the Crimes Act 1900 (NSW) sets out that common assault is an act whereby a person intentionally or recklessly causes another person to apprehend immediate and unlawful violence.
There are numerous defences to assault. The most common kind is self-defence. Self-defence can extend to the defence of others or property.
Raising self defence must be done by the accused person. The accused person also needs to show that they believed it was necessary to do what they did, and that the belief was a reasonable one.
Consent is a slightly less commonly used defence and only applies to certain and specific categories of offences, as consent cannot be given in cases where an assault causes bodily harm.