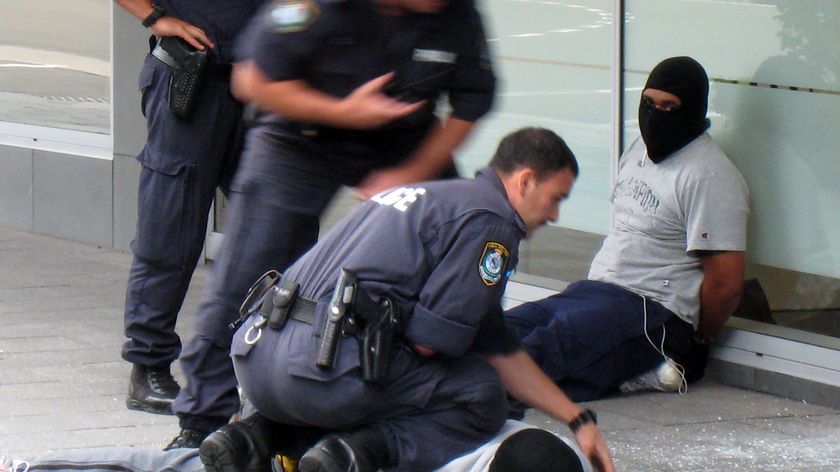 Armed Robbery in Front of Police Station: The Law, Defences & Penalties for Armed Robbery
One of the most brazen gangs in recent memory has been brought to its knees after being charged with committing numerous robbery offences on Asian immigrants.
Two men were arrested by detectives from Burwood Local Area Command on 25 September 2020 and refused bail. This means that they will remain in custody while their cases progress.
The pair are alleged to have arranged to meet Chinese immigrants for the purpose of exchanging Chinese Yuan for Australian dollars at lucrative rates. When the alleged victims would attend the meeting, they would be surrounded and forced to surrender their money.
One of the robberies is alleged to have occurred outside Burwood Police Station and Burwood Local Court.
What Happened?
Shun Zerk Ooi and Chia Hao Yeh were charged by Police after an investigation into a spate of robberies throughout Sydney's Inner West.
Police allege that the 30-year-old and 31-year-old arranged meetings with Chinese nationals using an application. They would promise to exchange Australian dollars for Chinese RMB.
The first incident occurred on Elizabeth Street, Burwood at approximately 9.45pm on Saturday, 5 September 2020. The pair are alleged to have entered a vehicle in a car park to conduct a currency exchange. During the exchange, a portion of the cash was stolen.
The second incident was an armed robbery where a 24-year-old man arranged a currency exchange meeting on Belmore Street, Burwood. The man was allegedly threatened by two men with a knife at approximately 12.20am on Friday, 18 September 2020.
There was a struggle between the parties which resulted in the alleged victim being knocked to the ground. The pair drove away with his money.
In a third incident, a 20-year-old man attended Shoreline Drive, Rhodes, to conduct a currency exchange. Again, the meeting was arranged online. It occurred at approximately 7.15pm on Saturday, 19 September 2020.
A man entered the car and after the 20-year-old gave him a container with cash, he allegedly ran from the car and fled in a vehicle parked a short distance away.
The alleged victims in the above three incidents contacted Burwood Police to report the robberies. As a result, Strike Force Eulenstein was established to investigate.
After conducting a detailed investigation, strike force detectives and South West Metropolitan Region Operations Support Group arrested two men at Burwood just before 8pm on Thursday 24 September 2020.
A 37-year-old man was later arrested at Haymarket and taken to Day Street Police Station. He is was due to front Central Local Court.
Following the arrests, Police executed search warrants at units in Haymarket and Ultimo. Items including cash, mobile phones, a laptop and other items relevant to the investigation were seized.
The 20-year-old Malaysian National was charged with robbery in company, armed robbery with an offensive weapon, stealing and breach of bail.
The 37-year-old man was charged with accessory after the fact of armed robbery in company and accessory before the fact of armed robbery with an offensive weapon.
The 32-year-old man has been released pending further inquiries. It is unclear whether there are any other incidents Police are investigating.
The Law of Armed Robbery
Section 98 of the Crimes Act 1900 (NSW) defines armed robbery as the use of use of an offensive weapon to steal property from another person.
To establish an armed robbery charge, Police must prove, beyond reasonable doubt that the Accused took property from the alleged victim, had the intention of stealing and used violence or threatened violence to obtain the property while armed with an offensive weapon.
If any of these elements are not made out, then the Accused will be found 'not guilty'.
Even if the prosecution can establish all of these elements, there are other defences that can be employed.
Often, there will be an issue as to 'identification'. This means that Police cannot prove beyond reasonable doubt that the Accused was the person who committed the robbery. Generally, the use of fingerprint and DNA evidence will be crucial to this defence.
Given the alleged victims appear to be strangers to the defendants in the present case, this may be an argument that can be used. It may also explain why the 32-year-old man was released by Police.
Robbery is a strictly indictable offence and must be finalised in the District Court.
However, an experienced criminal lawyer will often be able to negotiate with the prosecution to downgrade an armed robbery charge to a robbery or a steal from person charge.
Charged with Robbery or Stealing?
If you or a loved one has been accused of a stealing or robbery offence, it is important to obtain advice from a lawyer who has successfully defended hundreds of persons charged with these offences. Call Astor Legal on (02) 7804 2823. Or, you can email info@astorlegal.com.au.
We have offices throughout the Sydney metropolitan area including Sydney CBD, Parramatta and Liverpool. We can arrange a conference for you with a Law Society Accredited Specialist for Robbery and Stealing offences.