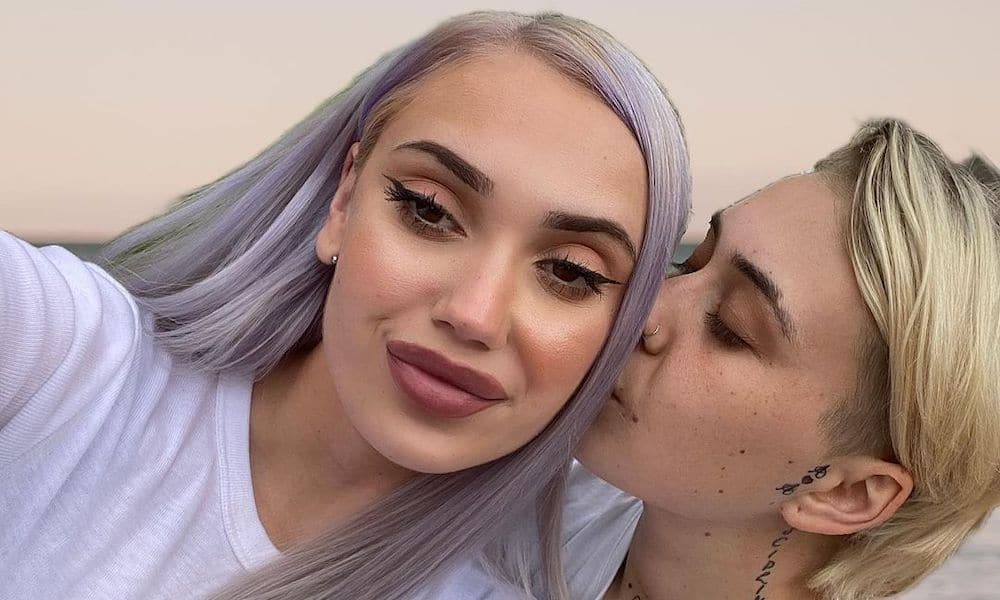 Lesbian Instagram Couple Face Armed Robbery Charges
A lesbian couple have been charged with armed robbery after they were allegedly caught on CCTV cameras.
Police allege that Eleanor Rohana Ashford and her girlfriend Sarah Canceri went on a crime spree throughout southwest Sydney.
CCTV footage released to the media shows two women wearing headscarves at a petrol station armed with weapons. It is alleged that the station attendant was forced to hand over cash and cigarettes.
Both women remain behind bars after Police refused them bail.
Rock Climbing Adventure Before Alleged Armed Robbery
Before the alleged armed robbery, the couple visited an indoor rock climbing centre.
Canceri's Instagram shows a picture of both women posing with their arms flexed, still locked into the harnesses.
The photo was captioned, "First time rock climbing, nailed it" and was posted on Friday, 26 March 2021.
Ashford's her tattoo-clad torso can be seen in the photo. There is a reference 1997 – presumably the year she was born – as well as several lengthy phrases. She also sported a separate shin piece and a love heart.
Both women are 23 years old.
Canceri posted a picture with Ashford in July 2020, where she described her as the "love of my life".
Friends regularly described the duo as their "favourite couple" when they shared pictures together on trips to the snow or outings at the beach.
Prosecution Case
The Police facts sheet claims that the couple visited three separate petrol stations in southwest Sydney.
The Crown case was that they wore headscarves and were armed with an axe and knives, demanding attendants' hand over cigarettes and cash.
However, they were captured soon after the incidents as Police located them together. They were arrested in the early hours of Saturday, 27 March 2021 and charged with three counts of robbery armed with an offensive weapon.
Police claim that they were able to seize stolen number plates, knives, an axe, money and cigarettes from the Mitsubishi Lancer the couple had used.
The vehicle was found at Commissioners Drive, Denham Court shortly after the final armed robbery report to Police.
Ashford – the daughter of prominent Sydney doctor Bruce Ashford – made a release application at Liverpool Local Court.
Robbery lawyers told the court that police were called to a Liverpool service station on Heathcote Road, at approximately 11.45pm on 27 March 2021.
The attendant reported that cash and cigarettes had been stolen by two people armed with an axe and knives.
Within thirty minutes, police received another call from a second service station on Newbridge Road, Heathcote, where cash and cigarettes were again allegedly taken.
Finally, at 1.15am on Saturday, 28 March 2021, police were called to a third service station, on Camden Valley Way, Edmondson Park. They were told that an employee had been threatened with a hammer. Cash was also said to have been taken.
In making submissions to the Court, Ashford's Liverpool criminal lawyers proposed bail conditions that allowed her to reside with her father – Dr Bruce Ashford, a respected Wollongong surgeon – and he would drive her to Wollongong Police Station every day.
However, later in the day Ashford withdrew her bail application.
She was remanded in custody to face Liverpool Local Court on May 19.
Canceri did not apply for bail. She will appear before Liverpool Local Court on Monday.
Section 97 of the Crimes Act 1900 (NSW) sets out the definition of armed robbery as the use of an offensive weapon to steal property from another person.
You can fight an Armed Robbery charge in two ways. Firstly, the prosecution must prove beyond reasonable doubt:
You took property from the alleged victim; and
You had the intent to steal; and
You used violence or threatened violence to obtain the property; and
You were armed with an offensive weapon.
If any of these elements are not made out, then you can be found 'not guilty'.
An offensive weapon is defined in s4 of the Crimes Act 1900 as:
a dangerous weapon, or
any thing that is made or adapted for offensive purposes, or
any thing that, is used, intended for use or threatened to be used for offensive purposes, regardless of whether it is ordinarily used for offensive purposes or capable of causing harm.
A dangerous weapon is defined in s4 of the Crimes Act 1900 as:
a firearm, or an imitation firearm, within the meaning of the Firearms Act 1996, or
a prohibited weapon within the meaning of the Weapons Prohibition Act 1998, or
a spear gun.
Stealing is commonly referred to in larceny charges.
Secondly, you can rely on one of the defences to armed robbery:
Identification: The prosecution cannot prove you were responsible for the robbery. If your DNA or fingerprints were found at the scene, we can instruct our team of DNA and fingerprint experts to cast doubt on the prosecution evidence.
Claim of right: If you held an honest belief that the property taken was yours or you were entitled to it.
If the prosecution cannot prove that you used or threatened the use of violence
the prosecution cannot prove that you used an offensive weapon
If charged with 'Armed Robbery with Wounding': the prosecution cannot prove that you caused wounding or grievous bodily harm
Duress: You were forced to commit the offence
Necessity: You needed to commit the offence
The team at Astor Legal have years of experience in armed robbery cases. We can quickly assess whether you have any defences open to you and begin preparing to represent you in Court. Call us on (02) 7804 2823 or email us at info@astorlegal.com.au.
The maximum penalty for Armed Robbery is 25 years imprisonment.
There is also a standard non-parole period of 7 years for this offence. The standard non-parole period is the amount of time you must spend in gaol before you are granted parole.
The Guideline Judgement for Armed Robbery offences (R v Henry (1999) 46 NSWLR 346) set out that very commonly, Robbery offenders displayed the following characteristics:
Young offender with no or little criminal history
Weapon like a knife, capable of killing or inflicting serious injury
Limited degree of planning
Limited, if any, actual violence but a real threat thereof
Victim in a vulnerable position such as a shopkeeper or taxi driver
Small amount taken
Plea of guilty, the significance of which is limited by a strong Crown case.
The Court further stated that the overall sentence should generally be between four to five years imprisonment.
The Court also identified the following factors as particular to an offence of 'Armed robbery':
Nature of the weapon
Vulnerability of the victim
Position on a scale of impulsiveness/planning
Intensity of threat, or actual use, of force
Number of offenders
Amount taken
Effect on victim(s).