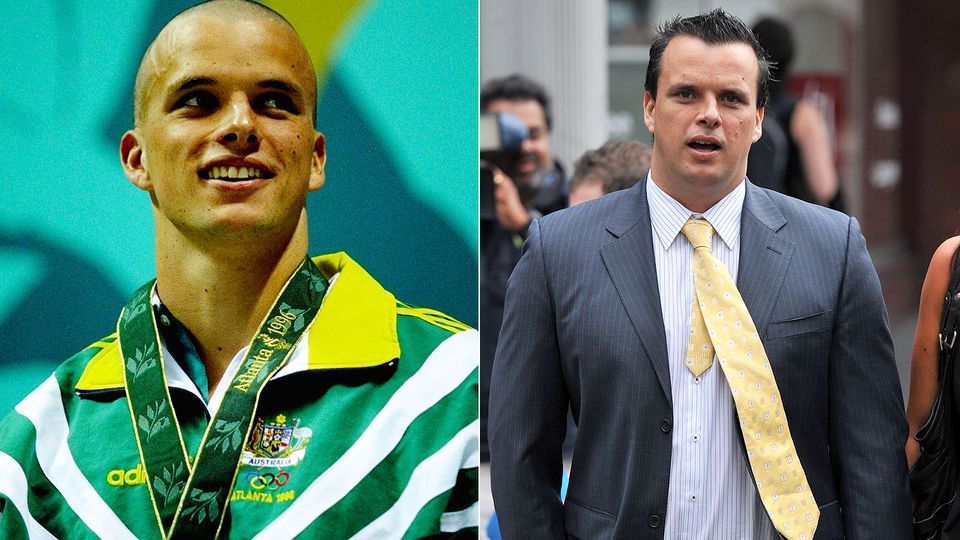 Olympic Swimmer Arrested for Allegedly Masterminding Multi-Million Dollar Commercial Drug Supply Syndicate
Former Olympic swimmer Scott Miller has been arrested by Police after being accused of heading a multi-million-dollar commercial drug supply syndicate in Sydney.
Officer allegedly found $2 million worth of prohibited drugs including heroin and 'methylamphetamine' (also known as 'ice') hidden inside candles.
The 45-year-old retired Olympian was one of two men arrested after Police executed search warrants in Sydney's inner west.
In addition to prohibited drugs, officers also seized a vehicle alleged to have been used in the offending.
Mr Miller remains bail refused and in police custody.
Police Execute Search Warrants
After a lengthy investigation, Detectives from the NSW State Crime Command's Drug and Firearm squad executed search warrants at a Bankstown business and two residences in Balmain and Rozelle.
Police will allege that they were able to seize approximately 1 kilogram of heroin with a street value of $250,000 and over $75,000 in cash.
A white Toyota Camry was also seized. Officers said it was used by the commercial drug supply syndicate to transport the prohibited drugs.
Scott Miller Alleged to be Head of Drug Supply Syndicate
This was not an isolated incident. The search warrants were said to be part of an ongoing police investigation into the supply of prohibited drugs in Sydney – particularly crystal methamphetamine.
Detective Superintendent John Watson said, "It will be alleged (Mr Miller) is calling the shots, the head of the syndicate, and others are working under his instruction."
Speaking to media outlets, Detective Superintendent Watson said eight candles were found, each with half a kilogram of methamphetamine inside.
He also made it clear that it was "not a small operation".
"They were well organised and well financed. They were well set up and they were intent on delivering death and misery right across the state."
Fall From Grace
Scott Miller rose to prominence as a 19-year-old at the 1994 Commonwealth Games where he won the 100m butterfly and was part of the winning team in the 4x100m medley relay.
He also won silver in the 100m butterfly at the 1996 Atlanta Olympics and a bronze medal in the 4x100m medley relay with fellow athletes Michael Klim, Steven Dewick and Phil Rogers.
However, his life after swimming devolved into drug use. In late 1997 he tested positive to marijuana and was suspended by FINA for two months in 1998.
On 16 April 2008, he was charged with possessing a prescribed restricted substance and possessing an offensive weapon.
Police conducted a raid on a storage facility in Sydney's northern beaches and found a commercial pill press, drugs and cash.
They also found steroids, a loaded revolver, prohibited drugs and $240,000 cash. Miller ultimately pleaded guilty and was sentenced to 100 hours community service and a two-year good behaviour bond.
He was again arrested on 18 June 2013, after police executed a search warrant at a residence in Mascot and discovered methamphetamine and $17,000 in cash. Miller again pleaded guilty and received a suspended sentence.
You can view some similar cases where offenders have avoided a term of imprisonment for drug supply cases here.
Large Commercial Drug Supply Charges
Scott Miller and a 47-year-old man were both charged after being interrogated at Newtown Police Station.
Mr Miller was charged with supply prohibited drug (large commercial quantity) and direct criminal group.
The Police facts sheet alleges that the criminal syndicate was supplying drugs from Sydney to regional NSW.
Mr Miller's drug supply lawyers appeared on his behalf when his matter was briefly heard at Newtown Local Court.
He did not apply for bail and was remanded in custody until 13 April 2021.
NSW Police said investigations were continuing and further arrests are likely.
Section 25(1) of the Drug Misuse and Trafficking Act 1985 (NSW) sets out that if you knowingly took part in the process of supplying, or agreeing to supply a prohibited drug, you can be guilty of an offence.
Under Section 3 of the Drug Misuse and Trafficking Act 1985 (NSW), the definition of 'supply' is broad. There is no requirement for you to receive a monetary benefit or any other benefit from supplying the drug.
The meaning of 'supply' includes selling, distributing, agreeing to supply, offering to supply, keeping it in your possession for supply, sending, delivering, receiving the drug for supply, or allowing any of those acts.
Section 29 of the Drug Misuse and Trafficking Act 1985 (NSW) explains that 'deemed Supply' is a law allowing Police to charge a person with Supply prohibited drug if the weight of the drug is greater than the 'traffickable quantity'.
Police do not need to prove that you actually supplied the drug or intended to supply the drug.
Previously, the concept of 'trafficking to a substantial degree' what a major issue for those found guilty of drug supply.
If you were found to have engaged in drug trafficking to a substantial degree, the Court was required to sentence you to a term of full-time imprisonment unless there were 'exceptional circumstances'.
Fortunately, Parente v R [2017] NSWCCA 284 overturned this and set out a guideline for sentencing in drug supply offences:
The sentence must sufficiently deter re-offending
The social impact of drug use, especially as a cause of other criminal offending must be taken into account and community protection is usually a significant factor.
The maximum penalty must be referenced
If there is drug trafficking 'to a substantial degree', a sentence of imprisonment will usually be appropriate
Imprisonment must not be imposed unless all possible alternatives have been considered and no other penalty is appropriate. Full-time imprisonment is a last resort
Intensive Corrections Orders must be given full, fair and genuine consideration. A defence lawyer who fails to consider and raise alternatives to full-time jail can lead to injustice
Despite this, statistics bear out that it is still very difficult to avoid a term of imprisonment for a commercial quantity drug supply charge. That is why it is important to obtain advice from a specialist commercial drug supply lawyer who has successfully defended hundreds of persons charged with these offences. Call Astor Legal on (02) 7804 2823. Or, you can email info@astorlegal.com.au.