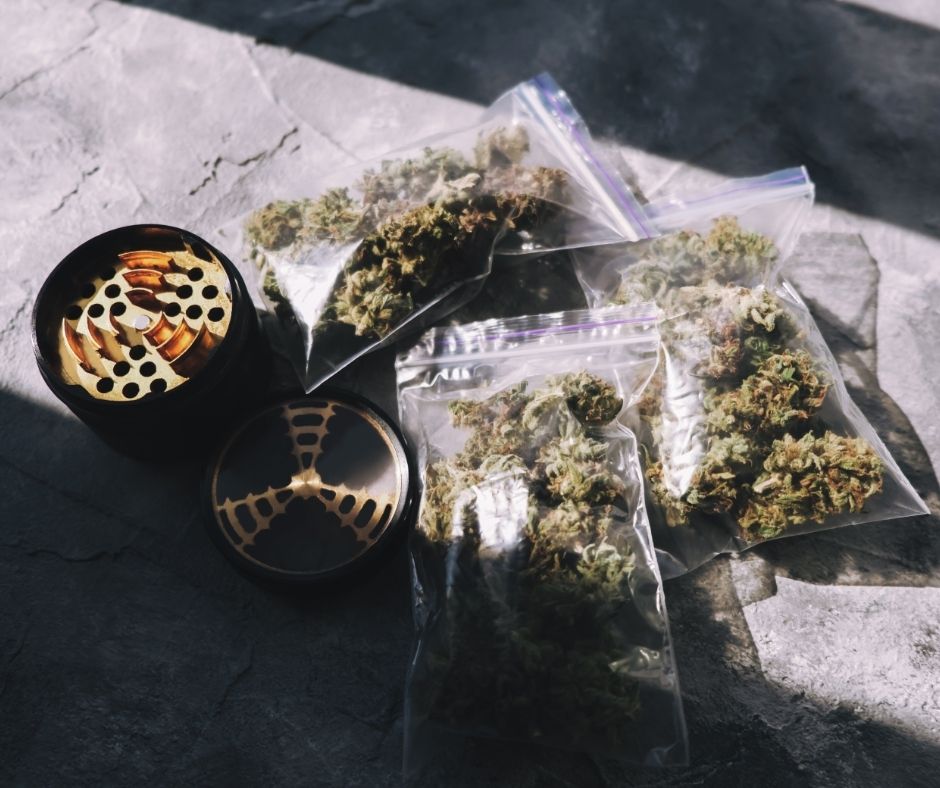 Drug Supply Stopped at Border: The Law, Defences & Penalties for Drug Supply
While most people who contravene the current border restrictions face a fine, one couple have found themselves in Police custody after allegedly being stopped at the border in the midst of a drug supply.
Police allege that the male and female were caught with 2.5kg of cannabis in their vehicle while returning to New South Wales from Victoria
The pair now will remain bail refused while their case progresses through the Court system.
What happened?
Just after midnight on Sunday, 4 October 2020, Police officers who were enforcing the border closure between NSW & Victoria stopped a white Hyundai Accent on Tooleybuc Bridge.
The occupants, originally from Casula, were travelling from Victoria to NSW. This would seem to indicate that they had travelled from NSW to Victoria, collected the cannabis from Victoria and were then returning to NSW with it.
They were asked to produce a valid permit to cross the border and were unable to do so.
The 39-year-old female driver and her 35-year-old male passenger were then told that their vehicle would be searched. In the boot, Police located 2.5kg of cannabis and seized it for the purpose of a forensic examination.
The pair were arrested and charged with Supply Prohibited Drug (cannabis). Their case will be heard at Dubbo Local Court.
Generally, to prove an offence of drug supply Police will rely on the Accused having text messages consistent with drug supply, multiple mobile phones and larges sums of cash.
Based on known facts at the moment, none of those indicators appear to be present in this case.
So how can Police charge the suspects with drug supply?
The definition of drug supply is contained in Section 25(1) of the Drug Misuse and Trafficking Act 1985 (NSW) which explains that if an Accused knowingly takes part in the process of supplying, or agreeing to supply a prohibited drug, they can be found guilty of this offence.
Police have to prove a number of elements of a drug supply charge beyond reasonable doubt before a person can be convicted.
First, they must prove that the Accused engaged in the supply of a substance, or knowingly took part in the supply of a substance.
Secondly, they must prove that the substance was a prohibited drug or that the Accused believed it was a prohibited drug.
The following defences to drug supply can also be used:
Illegal search

: If Police found the drug due to an unlawful search. This may be due to Police not having reasonable grounds to search you, or any warrant(s) they have used being improper or defective
The Accused had no intention to supply
The Accused did not know they were in possession of the drug

Carey defence

: The Accused was holding the drug on behalf of another person and intended to give it back to that person (Carey (1990) 50 A Crim R 163)
The substance was not a prohibited drug, AND the Accused did not believe, nor did they hold it out as a prohibited drug

Duress

: You were forced to commit the drug supply
The prohibited drug was for personal use
Deemed Supply of Drugs
Section 29 of the Drug (Misuse and Trafficking Act) 1985 (NSW) sets out:
"A person who has in his or her possession an amount of a prohibited drug which is not less than the traffickable quantity of the prohibited drug shall, for the purposes of this Division, be deemed to have the prohibited drug in his or her possession for supply, unless—
(a) the person proves that he or she had the prohibited drug in his or her possession otherwise than for supply…"
This section makes it clear that if a person is found with an amount of a prohibited drug that is greater than the 'traffickable quantity', the Court can assume that they had the drug for the purposes of drug supply.
It is then for the Accused to rebut this presumption on the balance of probabilities. This means that they must prove that it was more likely than not, that they had the drug for a purpose other than drug supply.
This other purpose is usually 'personal use'.
The traffickable quantity for cannabis is 300 grams.
Will You Go to Jail for Drug Supply?
Below is a table of judicial commission statistics from the last ten years for drug supply offences dealt with in the District Court:
| | | | | | |
| --- | --- | --- | --- | --- | --- |
| % | Amphetamine | Cannabis | Cocaine | Heroin | MDMA/Ecstasy |
| Section 10 | 0.1% | 0.6% | 0.7% | 1.1% | 6.4% |
| Fine | 0% | 0% | 0% | 0% | 0.2% |
| Good behaviour bond | 5.7% | 3.9% | 8.2% | 8.2% | 21% |
| Community Service | 1.5% | 0.6% | 1.5% | 0.5% | 4% |
| Suspended Sentence | 27.3% | 28.4% | 32.4% | 22.9% | 37.3% |
| Intensive Correction Order | 8.2% | 12.9% | 24.2% | 7.4% | 11.1% |
| Home Detention | 0.3% | 0.6% | 0.5% | 0% | 0.5% |
| Prison | 55.7% | 51% | 30.9% | 59.7% | 16.8% |
The sentencing statistics for drug supply bear out the very real likelihood of a term of full-time imprisonment will be imposed.
As such it is important to speak to specialist drug lawyers who have experience in having their clients avoid jail sentences.
Charged with Possession or Supply of Drugs?
If you or a loved one has been accused of an offence involving drugs, it is important to obtain advice from a criminal lawyer who has successfully defended hundreds of persons charged with these offences. Call Astor Legal on (02) 7804 2823. Or, you can email info@astorlegal.com.au.
We have offices throughout the Sydney metropolitan area including Sydney CBD, Parramatta and Liverpool. We can arrange a conference for you with a Law Society Accredited Specialist for drug charges.