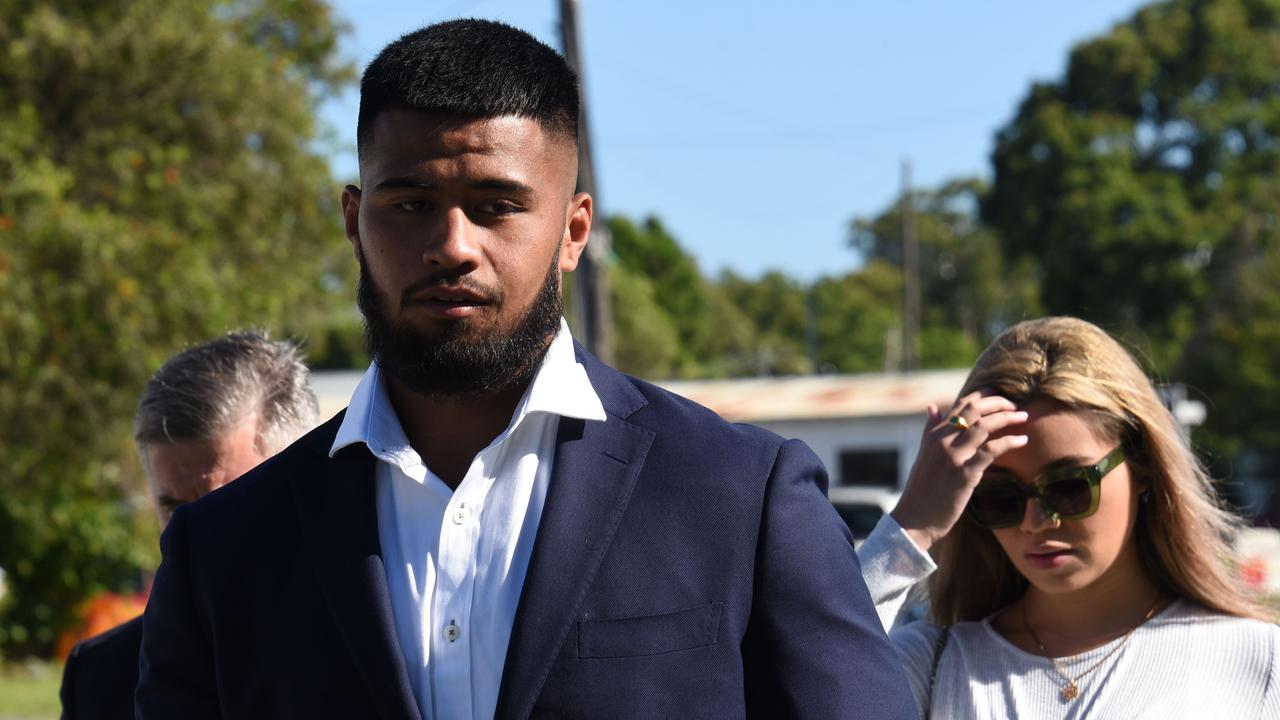 Lawyer Explains How NRL Star Payne Haas Avoided a Criminal Conviction for Intimidation
NRL player Payne Haas has avoided a criminal conviction at Tweed Heads Local Court despite pleading guilty to intimidation of a police officer.
In the course of a verbal tirade directed at police, Haas told a female officer, "Why you looking at me like that? Cause you're a woman and you think that I won't touch ya?"
However, it has been revealed that the rugby league star was dealing with a raft of difficulties at the time of the incident, including the death of his brother.
He will be subject to a Conditional Release Order for the next two years.
What Happened?
Haas was arrested on 16 January 2020 after verbally abusing and intimidating police at Tweed Heads while with his pregnant partner Leilani Mohenoa.
Police approached an intoxicated Payne Haas asked him for identification. The representative rugby league player replied, "F**k the ID, I don't need to give you ID. You got a badge on you and you think you're a f**king tough c**t. You put my family in jail you c**ts."
He then told another officers, "Don't come near me bro, I'll f **king jab ya, on my mother's life I will. Get the f**k out of here bro, get the f**k out of my face or I'll take all of you on myself you f**kwits."
Perhaps the most serious of the allegations involved Haas looking at a policewoman and saying, "Why you looking at me like that? Cause you're a woman? Cause you're a woman and you think that I won't touch ya?"
However, there was no suggestion that Haas put his hands on any officers and he was not charged with assault police.
No Conviction at Tweed Heads Local Court
The NSW Origin prop arrived at Tweed Heads Local Court alongside family members and his partner.
Haas' criminal lawyers argued that the court should decline to convict the Broncos prop as the punishments he would receive from the NRL would be far more significant.
Significantly, Haas had apologised to the officers which was given substantial weight in the sentencing proceedings.
In a statement released by the player, he said, "I have gone to see the police officers involved and offered them a full apology for my conduct, as well as spending time with police going through what I did…I did the wrong thing and let myself down as well as my family and the club – but most importantly, I acted in way that showed disrespect to the police, and I am really sorry for that."
He also admitted that he was intoxicated at the time of the offending, saying, "I had been drinking and the words I used and the way I acted were totally unacceptable. I'd like to thank the police for taking the time to see me, and accepting my apology…I will learn from this incident and I will be a better person in the future."
The Court heard that Haas had endured a difficult upbringing with both of his parents serving time in jail and told the court: "Rugby league is his saviour."
The 21-year-old escaped conviction and was placed on a two-year conditional release order.
Previous off-field incidents
Haas had previously been stood down by the Broncos due to to off-field incidents.
The Kangaroos prop missed the first four games of the 2019 season and fined $10,000 after he failed to co-operate with the integrity unit surrounding an incident at a junior football game.
NRL Integrity Unit Delivers Punishment for Intimidation
The NRL Integrity Unit handed down its own punishment to Mr Haas shortly after the sentencing at Tweed Heads Courthouse.
They issued a fine of $50,000 and a three match suspension. The fine is the maximum penalty that can be issued, sending a messages to other players who may find themselves in a similar situation.
NRL chief executive Andrew Abdo also issued a statement, saying that the game had no tolerance for intimidation of police.
"Payne's conduct was unacceptable…There are no excuses for any form of abuse towards our police force, and any player who intimidates police will be dealt with severely."
Payne Haas will also be required to participate in an education program and participate in community service through the NRL.
Abdo said that, "It's important our sanctions are two-fold — they must act as a deterrent but also have an element of education and rehabilitation so players who are in trouble can learn from their mistakes and develop into better young men."
Brisbane Broncos chief executive Paul White said he was encouraged that Haas had taken responsibility for his behaviour.
"We are very disappointed with Payne's actions and the language he used — it was totally unacceptable. But Payne has taken responsibility from the start and has apologised in person to the officers involved. We will now ensure that Payne receives the support and education he needs to make sure he learns from what happened here. Mentoring, service in the community and spending time with police will be central to that process."
Payne Haas Loses Brother
The death of his brother, Chace Haas, led Payne to drink heavily throughout the day of the incident. The NRL star's criminal lawyers suggested this was responsible for the offending.
Further, he had been unable to visit his family due to the NRL's COVID-19 bubble.
Chace was a quadriplegic who spent most of his life in a wheelchair due to a car crash.
"I was not in a good head space at all in that moment…It's been tough losing Chace. I haven't spoken much about it. We were really tight. He died so suddenly and to be honest I haven't handled this whole tragedy well."
"Because of the COVID restrictions, I had limited time to process Chace's death with my family. It's been the hardest thing I ever have faced. So while I am really embarrassed and disappointed at the way I treated the police, I hope people can see there were other factors behind what happened."
Haas also thanked his family and partner for helping him through the difficult period of his life.
Intimidation Charges
Section 13 of the Act sets out that if you knowingly cause a person to fear for their safety or the safety of another, you can be guilty of an offence. The most common example of intimidation is making threats to another person.
You can fight an Intimidationcharge in two ways. Firstly, the prosecution must prove each of the following beyond reasonable doubt:
you harassed, molested, made repeated phone calls, text messages; AND
You knew or should have known that your conduct would cause the person to fear physical or mental harm
There is no need for Police to prove that the alleged victim actually fears physical or mental harm.
If any of these elements are not made out, then you can be found 'not guilty'.
Secondly, you can rely on one of the defences to intimidation:
Intent: you did not intend to cause fear to the alleged victim.
Identification: Police cannot prove you were responsible for the stalking or intimidation. This includes if they cannot prove you were responsible for sending any messages
Duress: You were forced to commit the offence
Necessity: Your actions were necessary in the circumstances
A charge of intimidation carries maximum penalty of 5 years jail and/or a fine of $5,500.
Intimidation offences are taken very seriously by the Courts. Most people who are found guilty receive criminal convictions which can affect a person's career and ability to travel overseas.
That is why it is important to obtain advice from a specialist stalk or intimidate lawyer who has successfully defended hundreds of these charges. You can read about some recent cases here.
Call Astor Legal on (02) 7804 2823. Or, you can email info@astorlegal.com.au.